Mary Ford (メアリー フォード, Mearī Fōdo) is a Lieutenant of the Japanese Comerican Esper Team The Liberty Bells. She is a Level 6 Psychokinetic.
Appearance
Edit
Mary has shoulder length Silvery or Gray hair, with a swarthy skin tone to match. She is well endowed with a considerably perky, voluptuous bosom, and is usually seen attired in her cowboy hat and boots if character bears individual affinity towards Japanese culture by this fashion precept.
Personality
Edit
Mary's personality is like Kaoru's in ways as she is boastful and confident in her power, yet with considerably greater confidence in her beauty which Kaoru might envy. She quickly takes a liking to Minamoto which makes the Children jealous because of Mary's age being very close to Minamoto's, and because of her glamorously fashionable figure. However when she works with The Children she is shown to care and help her team. Said to naturally harmonize well with Aoi among the Children.
From Orange County, California, she has followed through into her adult life from her formative years service relative extra-sensory protection agency.
Abilities
Edit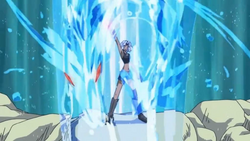 Relationships
Edit